Silks
Silks....Silks....Silks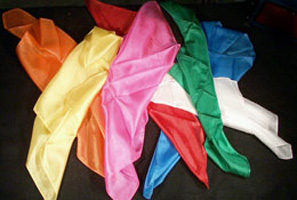 All silks are Sewn & Hemmed for Magicians. Pure China Silk.
These 100% pure silk handkerchiefs are an excellent quality for all your production devices and other silk handkerchief needs.
The silk handkerchief colors as shown above, are in the following order - left to right.
Black - Blue - Emerald Green - Fuchsia - Green - Lemon - Orange - Red - Turquoise - Purple - White - Yellow
The silks handkerchiefs are available in sizes and colors as shown below.
| | |
| --- | --- |
| | 9 Inch - $2.50 U.S. each (Red Only) |

| | |
| --- | --- |
| | 12 Inch - $3.00 U.S. each (All Colors Available) |

| | |
| --- | --- |
| | 18 Inch - $5.00 U.S. each (All Colors Available) |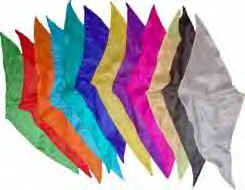 DIAMOND CUT SILKS $4
ASSORTMENT DOZEN PACK $30
These approx. 18 (on the diagonal) inch silks will fit in the space of one 12 inch one, but look much bigger. This is the lowest price they have ever been. Get some before the run out. Green, Red, Orange, Turquoise, Blue, Yellow, Purple, Pink, Black, White, Silver