DVDs
TELEKINETIC (PK) LECTURE WORKSHOP w/ Notes $45
   

Craig's current touring Lecture on PK Magic all on two DVDs in 3 volumes pn one, and live footage on the other. With lecture notes as well, all shot in High Definition. This is a complete workshop on PK Magic, accompanied by companion 40 page book, all in color. This was presented for the first time in March of 2010.
Extreme Burn 2 - Richard Sanders $35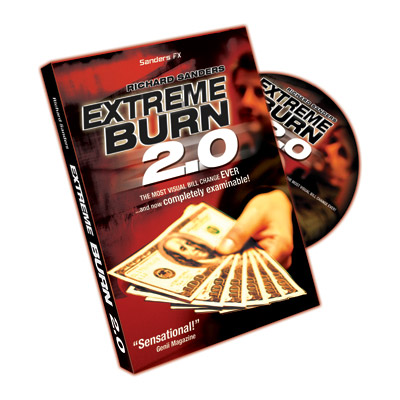 Just a personal note from Craig : Buy this, you wont be sorry, simply the best bill effects I have ever seen,

and Richard is a great teacher as well. This is stuff you will use.

The MOST VISUAL Bill Change system EVER...and now COMPLETELY EXAMINABLE!

Extreme Burn is back WITH A VENGEANCE!
| | |
| --- | --- |
| | HAND OUT TECHNIQUES |
| | ADVANCED UNDERGROUND CHANGES |
| | MAGAZINE TO MONEY WORKSHOP |
| | NEW MOVES, FRESH CONCEPTS |
| | PRO HANDLING TIPS: TABLE HOPPING, RESETABILITY |
| | SUBTLETIES, PSYCHOLOGY and MUCH MORE! |
| | PLUS: BRAND NEW ULTRA THIN GIMMICK |
| | PLUS: Extreme Burn Wallet/Holder |
Extreme Burn 2.0 includes:
ALL the same incredible material from the ORIGINAL Extreme Burn DVD.

PLUS 75 minutes of Brand NEW bonus material.
Featuring:
HAND OUT TECHNIQUES:
(Learn killer techniques that will allow you perform Extreme Burn and then immediately hand out the bills for complete examination.
PLUS: Deadly ideas and techniques that will allow you to AUTOMATICALLY RESET even after the hand out phase. Change a whole pile of 1's into a pile of 20's or 100's. The sky's the limit! Best of all, NO PALMING IS REQUIRED.)

ADVANCED UNDERGROUND CHANGES:
The Shake, The Snap, Cervon and more.

MAGAZINE TO MONEY WORKSHOP: Learn the real work on integrating paper and or pieces of magazine into your Extreme Burn system.

PRO TIPS: Psychology, table hopping, reset, AND MORE!

PLUS: The BRAND NEW ULTRA THIN Gimmick
(Designed thinner and sleeker for maximum performance.)

PLUS: The Extreme Burn HOLDER
A thin wallet to hold your bills in.
IMAGINE THIS:
Show 4-5 bills cleanly, one at a time, on both sides.
Lay them FLAT OUT in your hand. With NO COVER whatsoever, shake the bills.
INSTANTLY they change. That's it. No Folding. No funny moves. Nothing.
The bills just CHANGE!
Your spectators will swear they just saw a Hollywood special effect!

Richard Sanders has reinvented the multiple bill change. Working from the ground up he has transformed the visual impact of the effect and revolutionized the entire technique. Extreme Burn is a devious recipe combining one part technique and one part gimmick that will allow you to VISUALLY change bills with no cover.

The best part about Extreme Burn, besides the hyper visual changes is the fact that it is dead easy to do. The gimmick does most of the work for you so that you can concentrate on devastating your audiences.

Extreme Burn is not just a variation; it is an evolutionary leap forward in technique and effect.

WHAT TO EXPECT:
You will learn 10 unique, hyper-visual changes; giving you an army of devastating bill changes to do in literally any situation imaginable.
No stone is left unturned, from setting up the bills to performing the changes, and all the handling tips and subtleties in-between. You will be up and running in no time. AND as a special BONUS, you'll learn Richard's underground miracle, Slow Burn. They'll flip-out as they watch bills visually morph, while you slowly pass your hand over them! PLUS 75 MINUTES OF BRAND NEW MATERIAL that will allow you to change the bills and then hand them out for examination, spend them, etc.
A total of over 2.5 hours of killer magic on one remarkable DVD. Additional points:

ADDITIONAL POINTS:
| | |
| --- | --- |
| | Easy to do. |
| | Immediately repeatable, NOTHING TO RESET. |
| | No palming and nothing to get rid of. |
| | Pay for items after you change the money. |
| | Works with every currency. |
| | Change 1's to 100's, transform paper to money, foreign money to local currency, the possibilities are endless. |
| | Carry it in your pocket and you're always ready for a miracle! |
Branded (DVD and 2 Gimmicks) $50

The Painless Card Blister

"I love this! It's Amazing!"
- David Blaine

"Branded is fantastic. What a great idea! I highly recommend this."
- Keith Barry

"Branded really raises the bar! This is a drop-dead easy, incredibly convenient handling of the card blister effect. It's a sturdy, simple, real world worker that a pro will really use."
- Paul Harris

"Wow, what a GREAT idea. I wish I would have thought of it! Now that the perfect method has been created for this excellent effect, I look forward to adding it to my repertoire."
- Daryl

"This is a really hot idea. I'll take two."
- Kevin James

"Brilliant idea! Finally, a natural and sensible way to create a blister effect without palming or fumbling in your pocket. No more hassles. No more misses. Clean and direct. I'll take twelve for my personal use. It doesn't get much better than this."
- Kenton Knepper

"The Blister Trick I dropped into the ocean has become a full blown tsunami."
- Jack Tillar

"Now you can set minds on fire! I really feel that Branded is the most practical answer for this effect yet! This is a strong magical tool to carry every day and night!"
- Jeff McBride, Las Vegas Headliner

IMAGINE: You show a painful looking blister on your thumb from your last attempt at this hazardous stunt. Someone selects a card and concentrates on it while gazing into the flame of your lighter. You pinch the flame and the bubbling blister magically morphs into the configuration of their card. In other words, the image of their thought appears fried into the flesh of your fingertips--seared into your sizzling skin - Branded!

This gimmick takes over where the other gimmicks left off. It's now a very practical, easy, no-nonsense method that happens in the open, with nothing to hide! No more pocket management. No more public displays of affection. No more unwanted glances.

With Branded, you'll leave the room in a blaze of glory!

INCLUDES:

| | |
| --- | --- |
| | Instructional DVD. |
| | Precision-made Gimmick. |
| | Downloadable Instructions in Japanese, French, and Spanish. |
ADVANTAGES:
| | |
| --- | --- |
| | No pocket work. |
| | New design of realistic numbers and pips. |
| | Includes gimmicks for BOTH regular and mini Bic Lighters (Bic Lighter NOT included) |
Flipped Out - Craig Petty $30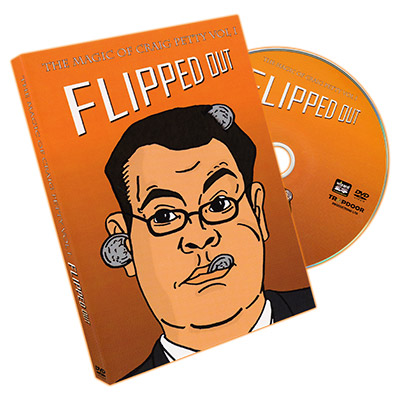 On volume one of this DVD coin series, we will venture into Craig's world of the flipper coin and some of the fantastic effects Craig has created with the gimmick over the years. All in all, Craig has selected 9 of the very best coin routines to put on to this DVD. From transpositions to disappearances, you will learn how to maximize your coin magic to the full with this superb little prop.

Revolutionary techniques taught to you by a master of coin magic will see you perform a variety of effects that are literally out of this world in no time. All that's left to do is sit back and start learning.

Effects:

| | |
| --- | --- |
| | Cartoon Coins |
| | Flipping Wild |
| | Empowerment |
| | WTF |
| | Flipped Across |
| | Flipped Out |
| | Full House Assembly |
| | Coincussed |
| | Flesh Pockets |
Running Time Approximately 90min
The Scoundrels Touch - School for Scoundrels $55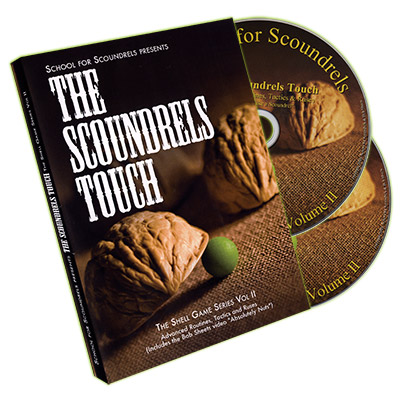 In this two disc Volume II, Chef Anton, Whit Haydn, and Bob Sheets outline their advanced system for the shell game and teach routines complete with patter and alternate endings for walk around, as well as demo the methods used by hustlers to work the scam for money. The psychology and philosophy of the game are explained and demonstrated. The advanced system for working the shells that was briefly outlined on Volume I, is here explained in full and seen in operation in live performance videos.

On Disc I, Bob's complete original instructions for handling his Sheets Acquitment and his system for working the shells (Absolutely Nuts) is here amplified and expanded, with new and more detailed explanations and a live performance of the routine for a regular audience in the Magic Castle's Close-Up Gallery. Bob has added a number of new ideas and deceptive ruses, but more importantly, you see the whole thing up and running. Whit adds some maneuvers and moves, along with some new devices that make they system unassailable.

On Disc II, Chef Anton performs and explains his own routine. Whit discusses psychological outs while contrasting two very different live performances in the Magic Castle's Close-Up Gallery of is shell routine. Incredible video of a street hustler working his craft at a music festival is shown and explained, with Scoundrel Member Giuseppe Aliotta discussing the props and betting cycles used by the contemporary street hustler. Whit shows how the Maneuvers can be very useful for working with a hand held board. New shells and props for the game are demonstrated. Whit and Chef discuss the idea of "Thinking like a Scoundrel" and how it is applied to magic performances. The Escobar Move is demonstrated along with some variations by Chanin. Several versions of the Kick Steal are demonstrated.

Both discs also contain a number of pdf and other files that can be used as a further resource and several training aids that make learning the moves easier. All the moves and maneuvers from Vol I are briefly taught here.

Disc One Running Time Approximately 1hr 27min

Disc Two Running Time Approximately 1hr 25min


Darwin's Encyclopedia of Thumb Tip Magic (3 DVDs) $60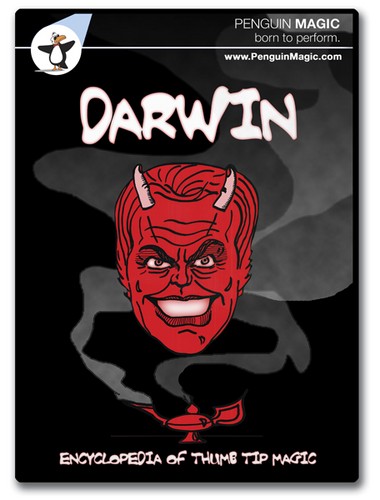 The THUMB TIP is here like never before. These three DVDs will go down in history as proof that this is the most powerful tool in the magician's toolbox.

On Volume One you'll learn:

The History of the Thumb Tip
| | |
| --- | --- |
| | Who invented it? |
| | In what year? |
| | What effect was first performed with it? |
Techniques
| | |
| --- | --- |
| | The Tuck - Gary?s Theory on how to Vanish a Silk Hanky. |
| | The Push - Matches, Cigarettes, Coins, etc. |
| | The Pinch - Lance Burton?s ultimate variation on "Darwin?s Flick". |
| | The Finger Palm - When you?re not using the Thumb Tip. |
| | The Fitting of the Thumb Tip - All amateurs do it wrong. |
| | The Darwin Dump - Gary?s sure-fire out when someone challenges you. |
Effects
| | |
| --- | --- |
| | Cut and Restored Rope - Darwin?s simplified variation on the old classic. |
| | Swallowing Cigarette ? An idea that goes way back, great for parties. |
| | Darwin?s Multiplying Hankies ? An accidental invention. |
| | Salt Trick ? The updated version with a special thanks to Lance and Siegfried. This routine is worth the price of the whole DVD. Great Finale for your act! |
| | Silk to Tube - Darwin's variation on an old P&L collectable. |
| | Dai Vernon?s Kicker ? Vernon?s clever one-finger ?move-less? tuck. |
| | Spoon Bending ? Darwin's simple improvement allows you to easily bend spoons and keys. |
| | Darwin?s Linking Chain ? Better than the Chinese Linking Rings, this is so good it's been sold as a stand alone effect for years. |
| | Chop Cup ? Darwin?s simplification that lets you do your chop routine with a regular cup! |
| | Cockroach Resurrection ? Not the best dinner trick! (But, a great bar trick) |
| | Color Changing Hanky ? Fielding West?s method, PLUS an alternate method. |
| | Torn and Restored Napkin ? Darwin does it professionally. Great opener! |
| | Cigarette to Ice Cube ? Another great one for a party! |
| | Paper Balls over the Head ? Darwin?s touch on the classic effect. |
| | Miser?s Dream ? Solari?s clever idea with a TT and a Jumbo Finale. |
Bonus:
| | |
| --- | --- |
| | Vanishing Quarter - With a thumb tip it's instant gratification. |
| | Thumb Tips on Video |
| | Thumb Tip Related "Fakes" |
On Volume Two you'll learn:

Effects
| | |
| --- | --- |
| | Restored Napkin - Also called "The Smoking Jacket", this old classic is very strong when you do it Darwin's way. Most people do it wrong! |
| | Large Napkin Vanish - Vanish items that would never fit in your Thumb Tip! |
| | Paper Clips - Bob Fenton's clever idea. |
| | Alternate Cut & Restored Rope - A hell of an idea. Blows the magicians away. |
| | Butchers Cord - The cord restores in the spectator's hands! Very strong! |
| | Firecrackers - A neat little idea with an appearing string. |
| | Candy - If you work in a restaurant this simple little effect will double your tips. |
| | Vanishing Cigarette - This is strong stuff. Darwin?s reproduction is a KILLER. One of the top 5 things Darwin?s ever invented with the thumb tip. |
| | Vanishing King Sized Cigarette - The one that destroyed Johnny Thompson. Party ready. |
| | Broken Toothpick - Cute little effect for the dinner table. |
| | Flash Paper - Such an improvement on the old method. More flash! |
| | Escape from Handcuffs - Escape from any pair of handcuffs using a Thumb Tip! |
| | Cellophane to Crystal - Another great one for the table workers. |
| | Vanishing Thimble - Put this one in your thimble routine! |
| | Straw Production - Great little effect anytime you're sitting at the table |
| | Bank Night - It's BEST done with a Thumb Tip. |
| | Nuts & Bolts - Egor Polo?s brilliant little effect. |
| | Spikes through Thumb - Mini Illusion with a thumb tip and a black art secret. |
| | Bill Switch - One of the top five Thumb Tip Tricks explained in GREAT tremendous detail by special guest and Las Vegas pro Jeffrey Richards. |
| | Dollars to Quarters - A comedic trick with a great finish. |
| | Burnt & Restored Match - One of the highlights of the set. |
Bonus
| | |
| --- | --- |
| | Cigarette Tonguing |
| | Cigarette Moves |
| | Trick Tips - Darwin takes you on a quick tour. Everything from picking up a flame your bare hands to a showgirl?s thumb tip. Tips of all colors, shapes, and sizes. |
| | Match Tricks |
| | Thumb Tip Packaging |
On Volume Three you'll learn:

Effects
| | |
| --- | --- |
| | Balanced Card - Tremendous effect. Magician fooler. |
| | Gold Cord - Darwin sells this one separately. Very commercial. |
| | Sponge to Power Pad - This little idea gives you a great way to get your number to a girl. |
| | Sponge Balls |
| | Color Changing Sponge Balls |
| | Sponge Rabbits - Darwin?s funny finish to Robert Nelson?s classic effect. |
| | Candy Mentalism - Read people's mind with a thumb tip! |
| | Silk to Pocket - Darwin?s modernization of the old principle. |
| | Nickles to Dimes - Darwin?s startling climax improves on the old classic. |
| | Drop Dead - Your pulse stops at your command. |
| | Cigarette in Hanky - When you do it Darwin?s way you?re one step ahead. |
| | Center Tear - Mentalism effect and Darwin?s finish on the Invisible Deck. |
| | Burst & Restored Balloon - Strong Trick. Darwin invented this one over 25 years ago. |
| | Vanishing Silk Hanky - A wild concept! Vanish the Hanky in the spectator?s hand! |
| | Rubber Bands - A little mystery with a rubber band. |
| | Purse Frame - The thumb tip improves the old classic! |
| | One Handed Silk Production |
| | Instant Breakfast - Fielding West loved it, and you will too. |
| | Expanded Hanky - Melvin Christopher and Hen Fetch Popper. |
| | Burnt & Restored Bill - Good trick, close-up or stage. This one gets more laughs. |
| | High Sodium Napkin - A new principle. |
Bonus
| | |
| --- | --- |
| | One Handed Coin Vanish |
| | More Gimmicks |
| | Literature |
| | Thumb Through Shirt |
Linking Laces w/ DVD $25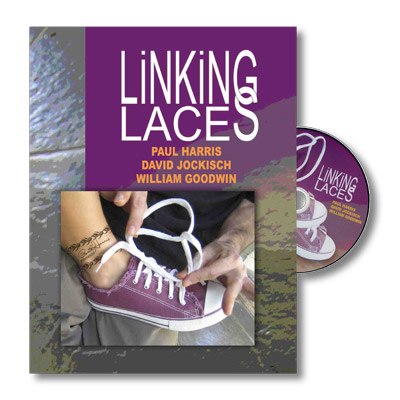 PERMANENTLY LINK ANYONE'S LACES! NO GIMMICKS! NO PREPARATION!

Effect

She rests her shoe-covered foot on your lap. You rub her tied laces to soften them up ...and her two loops suddenly link! You have to untie her laces to unlink them.

You gallantly re-tie her laces to make two more unlinked bunny ears. This time she pinches the two separate loops between her own fingers ...and again the two loops link! And they stay linked!

At your insistence she reluctantly takes her foot off your lap ...and wanders away with her impossibly linked laces. She can keep her laces linked forever ...or she can eventually untie them in a futile attempt to unravel the mystery.


| | |
| --- | --- |
| | No gimmicks – works with most types of laces |
| | The loops are genuinely linked |
| | The linked loops can be examined |
| | Completely impromptu |

Can be performed with or without a lap!

Plus a powerful bonus effect:
The no-gimmick self-tying shoelace

Comes complete with 28 page, photo-illustrated instruction book and DVD.
Fiber Optics $35

The 16 phase, eye-popping rope routine JUST GOT BETTER!

All the original eye-popping material from Fiber Optics PLUS 10 brand new phases, 5 brand new routines AND Hyper Ring: The visually astounding ring and rope routine!

On this 2 hour, power packed DVD, you will learn 32 eye flipping, mind crunching, hyper visual rope moves that will literally stun your audience! Nowhere else will you find this much mind crunching visual magic, without the aid of gimmicks, magnets or special props.

All 7 routines featured on the DVD are immediately repeatable with no reset, there is nothing to get ready, nothing to prepare and nothing to hide; just pure adrenaline magic right out of your pockets!

As performed at The Magic Castle in Hollywood, The Magic Circle in London and FISM in Den Hagg.

including NEVER BEFORE SEEN bonus footage:
10 amazing new phases
5 amazing new routines
PLUS HYPER RING, the visually impossible ring and rope routine

Super Practical:
Instantly reset for multiple performances
No scissors ever needed
Use the same rope over and over
Over 5 minutes of visual magic in your pocket
Stage or Close-up
3 Rope and 1 Rope routine include

Featured moves include:
Throw Restoration, The Ends Switch, Finger Cut, Super Slide, Gravity Pull, Endless Loop, Pop Endz, Static Cling, Clip Link, Gravity Link, Toss Link, Lickety-Split Ends Switch, Midair Morph, Ends Away, Loop Swoop, Air Toss, Opposite Ends, Middle Melt, PLUS much more!

Includes:

| | |
| --- | --- |
| | Full Instructional DVD with every move taught from audience and performers perspective...making it super easy to learn! |
| | 32 phases to choose from |
| | 7 routines |
| | Hyper Ring: The miracle ring and rope routine |
| | Over 2 hours of |
| | visual impossibilities |

"This is BY FAR the smoothest and most visual rope routine ever developed!"
- Daniel Garcia

"Fiber Optics Extended is a fresh new look at a proven classic with many moments of astonishment! Highly recommended!"
- Jeff McBride

"Fiber Optics Extended has the best transitions and set ups I've ever seen. Take full advantage while he's letting you in on the fun. I didn't want to learn another rope routine...make him stop!"
- Bob Sheets

"I am a huge fan of Sandsational Rope...but Fiber Optics Extended expands it to a grand level. I love Richard Sanders!"
- Doc Eason

"I give it 5 VERY COOLS!" Fiber Optics Extended is devious beyond belief!"
- Bruce Bernstein

"I'm new to rope magic and recently just performed the Fiber Optics routine before an adult audience. Boy, what an experience! I've never thought the act would have that much impact on the audience. Their jaws dropped!"
- Ony Carcamo, PHILIPPINES
Healed and Sealed DVD $20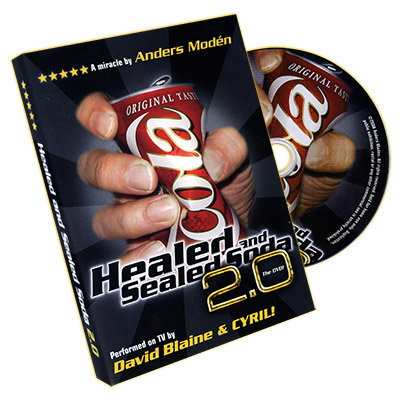 Effect

An empty and crushed can of soda magically restores and refills before the eyes of the spectators.

Impossible to improve? Here's the 2.0 version of Anders Modens ingenious Healed and Sealed Soda, the effect originally performed by David Blaine on "Vertigo".

Anders Moden shares his thoughts on the methods, the handlings and the presentations of his masterpiece. He will also guide you through various additional techniques that he has kept to himself. Until now.

Let's re-cap the effect:

| | |
| --- | --- |
| | Pour the last drops out of an empty a soda can. |
| | Crush it – in front of the spectators - and show it around. |
| | Command the can to heal itself – the spectator will see and hear this happen. |
| | Wave your hand over the opening and the hole will seal itself! |
| | Now the can has magically filled itself up. |
| | Open the can with a pfzzt! |
| | Pour the soda in a glass. |
| | Hand everything out to the audience. |

Anders Modén will take you through every step of the trick in detail. He will also show you:

| | |
| --- | --- |
| | a clever "hands-off" method that actually works. |
| | a special close-up method. |
| | an ingenious transposition effect where the drink visibly and instantly moves from a full coke can to an empty orange can! |

Additional material:

| | |
| --- | --- |
| | Several presentation ideas |
| | Variations in set-up and handling |
| | Examples for stage, parlour etc. |
| | Tips, tricks and variations |
| | Bonus section and chapter menus for easy navigation |

CYRIL says:
'"I think Healed and Sealed Soda is one of the BEST and MOST magical effects that people say is REAL MAGIC when performed."

Three time FISM award winner Shawn Farquhar says:
"On my cruise ship I levitate my Daughter, cut my wife in two and make it snow, but when I perform Healed and Sealed Soda it brings the house down!"

Running Time Approximately 50min
Ultimate Card Control $25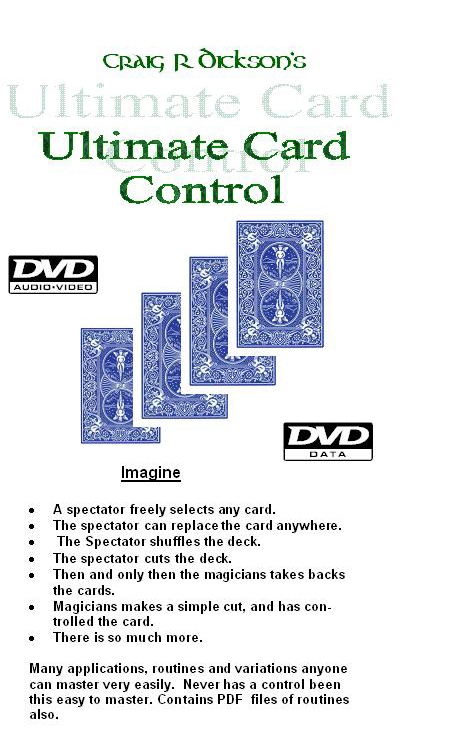 | | |
| --- | --- |
| | A spectator takes any card |
| | The spectator replaces the card himself |
| | The spectator shuffles and cuts |
| | All this is done before the magician touches the cards |
| | The magician now for the first time takes back the deck |
| | All it takes is a simple cut and you have the card |
This is only the beginning, there is so much more.
Imagine that you can do this, no matter how long you have been in magic. This DVD teaches all.
Floating Rose by Kevin James $50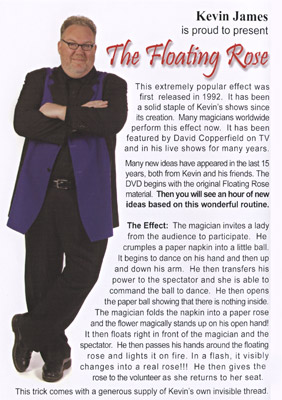 The magician invites a lady from the audience to participate. He crumples a paper napkin into a little ball. It begins to dance on his hand and then up and down his arm. He then transfers his power to the spectator and she is able to command the ball to dance. He then opens the paper ball showing that there is nothing inside. The magician folds the napkin into a paper rose and the flower magically stands up on his open hand! It then floats right in front of the magician and the spectator. He then passes his hands around the floating rose and lights it on fire. In a flash, it visibly changes into a real rose!!! He then gives the rose to the volunteer as she returns to her seat.

Modern Coin Magic - Bobo 4 DVDs $75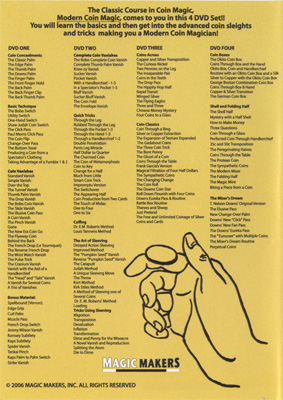 The Classic Course in Coin Magic is Here!
Watch, in wonder and amazement, the most incredible sleights and tricks with coins! Then, learn, step by step from the performer's view, how you too can do these amazing coin moves!

This 4 DVD Set is OVERLOADED with more than 170+ sleights and trick using coins!


Disc ONE
Coin Concealments
Basic Techniques
Coins vanishes
Bonus material

Disc THREE
Coins Across
Coin Classics

Disc TWO
Complete Coin Vanishes
Quick Tricks
Cuffing
The Art Of Sleeving
Tricks Using Sleeving
Disc FOUR
Coin Boxes
Shell and Folding Half
The Miser's Dream



Dice Stacking DVD - Todd Strong $25

A video that teaches you how to stack dice in just a few short hours! Dice Stacking is not only magical, but it's fun too! The art of scooping up a series of dice and stacking them one on top of the other is not nearly as hard as it looks. Professional juggler and entertainer Todd Strong has developed a method to easily teach you how to stack dice. In fact, using Todd's methods, you can learn to stack dice proficiently in just a few short hours. Dice stacking makes for a wonderful, magical interlude.Being a juggler, Todd has created numerous unique and visual stacking techniques, many of which magicians have never seen before, including fantastic aerial dice moves and two- handed dice stacking. You'll also learn how to stack 12 dice at a time! And host Michael Maxwell performs and explains Senator Clarke Crandall's Dice Stacking Routine. Hilarious, magical and entertaining, this one-of-a-kind routine is perfect as a unique magical showpiece.

Contains
| | |
| --- | --- |
| | How to stack dice |
| | Stacking variations |
| | Quick stacks |
| | Aerial moves |
| | Decapitating dice |
| | Stacking many dice |
| | Stacking tiny dice |
| | Stacking items other than dice |
| | Switches and color changes |
| | Much much more! |
World's Greatest Magic DVDs Only $20
Sponge

Balls

Finger

Rings

Cards

Across

Rope

Routines

Expanded

Shells

Everyday

Objects

Money

Magic

Stack of

Quarters

Cigarette Thru

Quarter

Matrix/Coin

Assemblies

Card on

Ceiling

Card

Warp

Gaffed

Coins

Linking

Rings

Scotch & Soda, Dime & Penny, ChinaTown Half

Money Magic

Dinner Table

Magic

Metal Bending

Thumb Tip Magic

Zombie Ball Magic

Ring On Rope Magic

Ambitious Card Magic

Bill In Lemon

Folding Coin/Coin in Bottle

Stand-Up Magic Volume 1

Stand-Up Magic Volume 2

Stand-Up Magic Volume 3

Card to Wallet

Chop Cup

Magic with Dice

Master Card

Technique

Volume 3

Master Card

Technique

Volume 2

Master Card

Technique

Volume 3

MacDonald Aces

Torn and Restored Newspaper

Three Ball Trick

Card Fanning
The Color Changing Deck
Ring Flight
Slydini Knotted Silks
Card Fanning Magic
Color Changing Deck Magic
Linking Laces DVD $25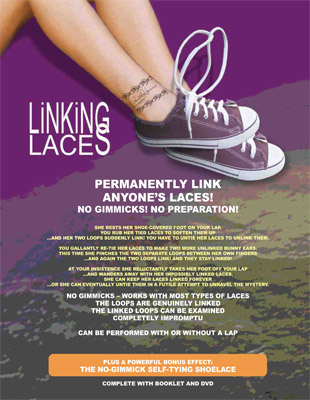 PERMANENTLY LINK ANYONE'S LACES! NO GIMMICKS! NO PREPARATION!

Effect

She rests her shoe-covered foot on your lap. You rub her tied laces to soften them up ...and her two loops suddenly link! You have to untie her laces to unlink them.

You gallantly re-tie her laces to make two more unlinked bunny ears. This time she pinches the two separate loops between her own fingers ...and again the two loops link! And they stay linked!

At your insistence she reluctantly takes her foot off your lap ...and wanders away with her impossibly linked laces. She can keep her laces linked forever ...or she can eventually untie them in a futile attempt to unravel the mystery.

| | |
| --- | --- |
| | No gimmicks – works with most types of laces |
| | The loops are genuinely linked |
| | The linked loops can be examined |
| | Completely impromptu |
Can be performed with or without a lap!

Plus a powerful bonus effect:
The no-gimmick self-tying shoelace

Comes complete with 28 page, photo-illustrated instruction book and DVD.


Fast and Loose DVD - Haydn $35

Complete instruction and performance of the classic "Fast and Loose" gambling scam. All the details fully explained plus two complete routines performed by Whit Haydn and Chef Anton. This DVD gives complete instruction in the basic moves and psychology behind the School for Scoundrels approach to Fast and Loose. Added to the DVD version is a great gag ending known as "The Drop Off Knot." The video features two different performances, one by Chef Anton and the other by Wit Haydn.
Royal Road to Card Magic Set - Paul Wilson $80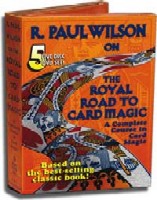 A COMPLETE COURSE IN CARD MAGIC
If you are If you are seriously interested in learning card magic, there is no better place to start than The Royal Road to Card Magic with R. Paul Wilson.
Since its initial publication, The Royal Road to Card Magic by Jean Hugard and Frederick Braue has been regarded as the most complete course in sleight of hand with playing cards ever written, teaching essential sleights from the Overhand Shuffle to the Pass and Palm.
Each chapter explores a new sleight followed by several tricks using what the student has already learned—tricks that, incidentally, include many of the best card effects ever created.
Many of today's finest magicians began with Hugard and Braue's classic book, including world-renowned card expert R. Paul Wilson. On these DVDs, Paul guides you along this Royal Road, demonstrating the sleights and effects from the book along with many important touches from his own repertoire. Paul guides you effortlessly through each chapter, using clear and concise instructions combined with multiple camera angles. He also performs most of the tricks in the book for an informal audience, allowing the student to see each effect before learning it.
This DVD series is a complete course in card magic that expands and updates the material from The Royal Road to Card Magic with new effects, improved methods, and advice from many of today's finest exponents of card conjuring. If you follow this course from beginning to end, learning each sleight before moving to the next chapter, you will soon be on your way to becoming an excellent card magician.
R. Paul Wilson teaching the Royal Road is one of the very best ways to learn card magic. The production values are superb! This is the best DVD course on card magic available today! —Bill Malone
Paul Wilson has performed card magic since he was eight years old and hasn't left home without a deck of cards since! Now a world-renowned, award-winning magician, Paul is respected not only for his creative approach to magic but also for his remarkable skill with cards. He is a regular performer at the Magic Castle in Hollywood and has traveled the world performing and lecturing on sleight of hand. Paul has also authored fifteen booklets and manuscripts on his magic and has also produced five instructional videos of his work. Paul now works in film and television. His credits include technical advisor and second-unit director of the movie Shade, producer of A&E's Mondo Magic, co-producer and star of Court TV's The Takedown, producer and star of the BBC show The Real Hustle, and technical advisor on the movie Smokin' Aces.
VOLUME 1
Introduction
Overhand Shuffle Hand Position
Execution
Controlling the Top Card
Controlling the Bottom Card
Top Card to Next to Bottom and Back
The Run
Injog
Double Undercut
Control
Retaining Top Stock
Full Deck False Shuffle
Topsy-Turvy Cards
Poker Player's Nightmare
Pocket Discovery
Telepathy Plus
Thought Stealer
Pinkie Does It
A Card and a Number
Riffle Shuffle Intro
Refinement
Retaining the Top Card
Retaining the Bottom Card
In the Air
An Instinct for Cards
Ultra Card Divination
Flourishes Intro
Ruffle
Spread and Turnover
Springing the Cards
Waterfall Shuffle
The Fan
One Hand Fan
One Thumb Fan
Bonus Material

VOLUME 3
Palm Intro
Top Palm 1
Holding Card / Holding Deck
Multiple Top Palm
Palm Glimpse
Replacing Top Card
Refinement
Card in Pocket
Now You See It
Gathering of the Clan
Spring Catch
Piano Trick
Back Slip Intro
Back Slip
Lightning Card
The Tantalizer
Under Your Hat
Overhand Shuffle 2 Intro
Overhand Break Control
Overhand Lift Shuffle
Lift Shuffle Force
Spread & Break
Holding a Break
Spread & Break Control
Refinement
Obliging Aces
Leapfrog
Spectator's Card
Poker Puzzle
False Shuffles and Cuts Intro
Optical Shuffle
Charlier Shuffle
False Cuts
Palm Cut
An Incomprehensible Divination
Circus Card Trick
Blackjack Detective
Bonus Material

VOLUME 5
Hindu Shuffle Control
Hindu Force
Hindu Glimpse
The Step
Natural Injog
All Change Here
Classic Force Intro
Now You See It
One Hand Force
Bottom Force
Two Card Force
Riffle Break Force
Sliding Key Force
Double Lift Force
Cut Force
Justice Card Trick
Fours of a Kind
Pulse Trick
Top & Bottom Changes Intro
Top Change
Refinement
The Changeling
Bottom Change
Arrangements
Jacks Wild
Think Stop
Reds & Blacks
Matching the Cards
Platform Intro
3 Cards Across
Ladies Looking Glass
Paul's Tips
Bonus Material

VOLUME 2
The Glide Intro
The Glide
Glide Refinement
Design for Laughter
Observation Test
Glimpse Intro & The Bottom Card Glimpse
The Top Card Glimpse #1
Gray's Spelling Trick
Key Card / Undercut / Card Under
Do As I Do
The Three Piles
The Twenty-Sixth Card
Meeting of the Minds
Non Poker Voice
Sliding Key Card
Bonus Material

VOLUME 4
Double Lift and Turnover
Refinement
Double Lift Glimpse
Reverse
Rapid Transit
Ambitious Card
Throughth and Consequences
Insidious Dr. Fu Lui Tu
The Pass Intro
Pass Technique
Refinement
Roy Walton's Pass at Red
Kangaroo Card
Righting a Wrong
Blindfold Pack
Double Speller
Color Change
The Changing Card
Self Cutting Deck
A Pretty Cut
Pop-Up Card
Charlier Cut
Acrobatic Aces
Reverses Intro
First Method
Second Method
Third Method
Fourth Method
Reversed Location
Tipsy Turvy
Double Reverse
Mentalivity
Mountebank Miracle
Bonus Material

AN INCREDIBLE VALUE!

JUST $79.95 FOR THE 5-DISC SET!

Over 8 1/2 hours of instruction!

Beautifully encased in one fold-out keepsake package!
The Intricate Web of Distraction by Whit Haydn $35

Whit Haydn is one of the best minds in magic when it comes to routining classic magic. Routines such as Whit Haydn's Four Ring Routine, the Mongolian Pop-Knot, the Teleportation Device, Chicago Surprise, Fast & Loose, and many others have become standards in the arsenals of many top-flight professionals. The "Color-Changing Knives" is a wonderful close-up item, but until now, it has had several weaknesses in method and presentation. With Whit Haydn's "The Intricate Web of Distraction," these weaknesses are overcome. This routine is both practical for the working magician and powerful in performance. The patter is entertaining and funny, and yet, because the humor is based on the situation, it easily adapts to the individual style of the performer. Whit has performed this routine thousands of times in front of audiences at the Magic Castle, Caesars Magical Empire, trade shows, hospitality suites, and cocktail parties. It never fails to enthrall his audience as he wraps them in a web of intelligent humor and amazing prestidigitation. The DVD shows a live performance of the routine and then every detail of technique and performance is carefully and thoroughly explained. Watching this DVD is like having a personal lesson in magic from one of the best and most entertaining magicians around today.

Pen Through Anything DVD $10

It's the perfect carry around pocket effect. But how many things can you do with it? This DVD includes 73 minutes of the best Pen Thru Anything routines from some of the top minds in magic.

Each routine comes complete with, presentation angles, comedy bits, handlings, techniques, and more! This DVD is hosted by Jim Krenz, and you will learn from John Cornelius, Michael Close, Mike Maxwell, James Lewis, and Giovanni.

The "Pen Through Anything" is a prop you can carry with you always. With this DVD, you can greatly increase the "power of the pen!"

The Art of Card Splitting DVD $35

Finally someone has realsed the real work on Card Splitting on a DVD
On this DVD, Marty "Martini" Grams gives you his famous lecture "Lickety Split" on how to make your own gimmicked and gaffed cards; step by step. As an added bonus "Martini" demonstrates the most famous packet tricks that use gimmicked cards.
Cardsplitting Techniques & Tools Menu with the complete "Lickety Split" lecture!
"Martini" demonstrates the most famous packet tricks that use gimmicked cards and explains how to make & perform them! From learning how to make "Acrobatic" cards to all the famous gaffed cards you will have it ALL!

Pocket Full of Miracles $40

This is Diamond Jim's act, and he offers it all on this DVD.
This DVD contains the original volumes 1&2, cramming in 23 of the routines from Diamond Jim's "sold-out" book. The performance shots were filmed impromptu in a restaurant and at the Magic Castle in Hollywood, CA.
This DVD will teach you some of Diamond Jim's best work, audience tested, mind blowing effects!


Egg Bag DVD $30

If you want to learn the Egg Bag, from the best, it doesnt get any better than this.
Four top professional routines are performed. Martin Lewis shows and explains the Senor Mardo Egg Bag, Tom Mullica entertains with the Comedy Egg Bag, Billy McComb bedazzles you with his favorite routine using the Whiskey Egg Bag.
The last segment is a lecture by Charlie Miller and Johnny Thompson the famous "Malini Egg Bag."


Shell Game DVD $35

Bob Sheets and Whit Hayden teamed up to produce this. This is the best on the shells.
In November of 2004, Bob Sheets, Whit Haydn, and Chef Anton combined their original methods for the ancient swindle, the Shell Game, and taught this new system to the School for Scoundrels class at The Magic Castle.
This is far more than an introduction to a whole new way of looking at the shell game, and a new system for performing the game that is rock solid, unassailable, and easy to learn.
These lessons are not just a rehash of what has been published before, but new moves, ruses, and strategies that will change the way the game is played far into the future.

The Art Of Levitation DVD $15

This broadcast quality DVD teaches you how to cause objects to float in space, defying the law of gravity.
You'll learn the basics of the Art of Levitation, and beyond. Magician Arthur Trace will teach you, step-by-step presentation, and breathing new life into them.
Each copy of the DVD comes complete with a kit of necessary magic props, including the "Floating Dollar Bill" trick.
With the techniques and methods explained on "The Art of Levitation," you can learn how to levitate. Not just small objects, even yourself!
Fechter's Aces $40
The Rat Pack - Kam $30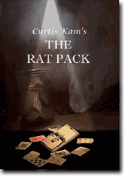 Absolutely Nuts - Sheets $25
Pea and Shell Game - Cass $35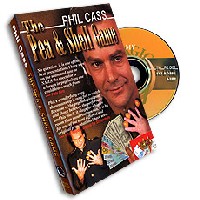 Corporate Close-Up - Sanderson $45
Extreme Rubber Band Magic $35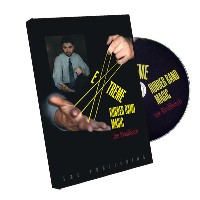 Teach In Series DVDs
MacDonald Aces DVD $15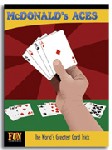 Invisible Deck DVD $15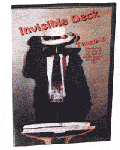 Amazing Magic Tricks with Sponge Balls $15
Amazing Tricks with Everyday Objects $15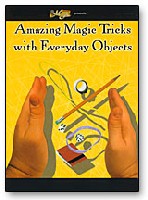 Amazing Tricks with Rope $15
Amazing Tricks with Money $15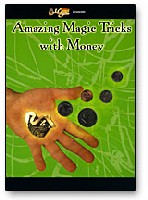 Amazing Tricks with Cards $15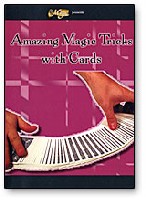 Amazing Tricks with Scotch and Soda $15
Amazing Tricks with a Svengali Decks $15
Amazing Tricks with a Stripper Deck $15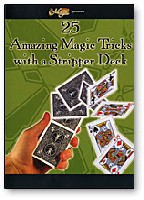 25 Amazing Tricks with a Thumb Tip $15